Failed Gang Rape Bid on Train: Bystander Apathy and the Tale of Resilience
In a horrifying incident that unfolded on a moving train in Gwalior, Uttar Pradesh, three men allegedly subjected a man and a woman to harassment. Their sinister intentions escalated as they pinned down the man and attempted to undress the woman with the aim of carrying out a gang rape. However, their heinous plan was foiled, leading the accused to callously throw the victims out of the moving train, while dozens of witnesses looked on in indifference.
It is deeply disheartening that amidst the 60-odd individuals present on the train, not a single person came forward to offer assistance or raise the alarm, as reported by the police. The aggrieved couple endured severe injuries and found themselves in dire need of medical attention.
Their pleas for help went unheard in the first two villages they passed through, leaving them desperate and vulnerable. However, when they reached the third village, a ray of hope emerged in the form of an elderly couple who extended their compassion and support to the traumatized victims. The compassionate couple provided the woman with a saree to preserve her dignity and offered essential first aid to both individuals. Subsequently, they facilitated their transfer to a local hospital, where they could receive the necessary medical care.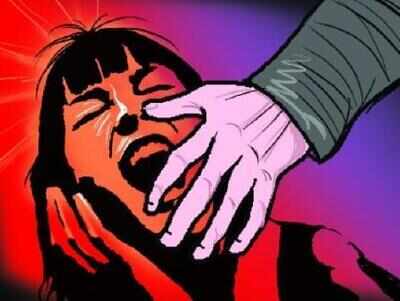 This harrowing incident sheds light on the distressing issue of bystander apathy and the urgent need for societal change. The lack of intervention and empathy displayed by the witnesses onboard the train underscores the importance of cultivating a culture that promotes active intervention and support for victims of harassment and assault.
The local police have initiated a thorough investigation into the matter. They are diligently reviewing the CCTV footage, hoping to identify the culprits and any potential witnesses who may hold crucial information regarding the incident.
According to the survivor's statement to the police, apart from two elderly co-passengers, no one came to their aid or responded to their pleas for help as the three accused molested the woman. The survivor, a 32-year-old woman, and her 22-year-old male companion, who both work for a private firm, were traveling from Lucknow to Gujarat when the incident occurred. Due to missing a connecting train, they boarded the general coach of the Surat Express in Gwalior around 10 pm.
The police have registered a First Information Report (FIR) in relation to the incident, and a comprehensive investigation is currently underway. Meanwhile, the two victims are still recovering from their injuries and the trauma they experienced while being cared for in the hospital.
This distressing incident serves as a stark reminder of the urgent need to address issues of gender-based violence, create greater awareness, and foster a society that prioritizes the safety and well-being of all individuals.