Former Maldives President Nasheed Resigns from Ruling Party Ahead of Presidential Polls
Mohamed Nasheed, the former President of the Maldives, announced his resignation from the ruling Maldivian Democratic Party (MDP) on Wednesday, setting the stage for a potential run against incumbent President Ibrahim Mohamed Solih in the upcoming presidential elections. Nasheed, a founding member of the MDP, cited a deepening political struggle with his party colleague Mohamed Solih as the reason behind his decision.
Taking to Twitter, Nasheed shared a photo of his handwritten resignation letter in the local Dhivehi language. The letter expressed his belief that, considering the current state of affairs in the country, it would not be in his best interest to continue his association with the party. Nasheed's decision has sparked speculation about his intention to establish a new political party and run as a candidate in the September elections.
Nasheed, known for his significant contributions to Maldivian politics, previously served as the country's Parliamentary Speaker and President. His decision to leave the MDP, a party that he played an instrumental role in founding, underscores the deepening divisions within the party's ranks.
The political landscape in the Maldives has witnessed increasing tensions and differences of opinion between Nasheed and President Solih on various issues. These differences have fueled speculation about a potential rivalry between the two prominent figures in the upcoming presidential polls.
Nasheed's resignation from the ruling party signifies his desire to forge a new path and explore alternative avenues for political engagement. By stepping away from the MDP, he has opened up the possibility of forming a new party or aligning with existing political entities that share his vision and objectives.
The upcoming presidential elections in the Maldives are expected to be highly contested, with multiple candidates vying for the highest office. Nasheed's potential candidacy adds another layer of intrigue to the political landscape, as his reputation and experience command attention and support from a significant portion of the population.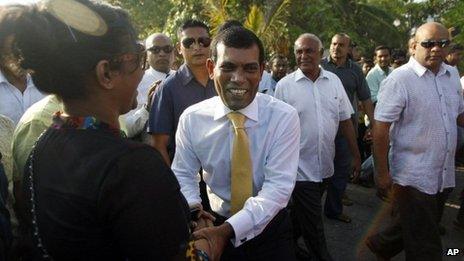 As the political dynamics continue to evolve in the Maldives, the resignation of Mohamed Nasheed from the ruling MDP marks a significant development. The impact of his decision on the upcoming elections and the overall political landscape remains to be seen. However, it underscores the shifting dynamics within the country's political sphere and sets the stage for a potentially fierce and competitive presidential race.
In conclusion, former Maldives President Mohamed Nasheed's resignation from the ruling Maldivian Democratic Party has created ripples in the country's political landscape ahead of the presidential polls. Nasheed's decision to step away from the MDP reflects a deepening political struggle with President Ibrahim Mohamed Solih and paves the way for his potential candidacy in the upcoming elections. The ramifications of this resignation and its influence on the future of Maldivian politics will unfold in the coming months, as the nation braces for a competitive and closely watched presidential race.