Layyah land scam: Punjab anti-corruption body summons Pak ex-PM Imran on June 19
Former Pakistani Prime Minister Imran Khan has been summoned by the Anti-Corruption Establishment (ACE) of Punjab to appear before them on Monday. This summons is in relation to a case involving the alleged fraudulent purchase of over 5,000 kanals (625 acres) of land at significantly reduced prices. Imran Khan's sister, Uzma Khan, and her husband, Ahad Majeed, have also been summoned by the ACE in connection with the same land corruption case in Layyah district, located in Pakistan's Punjab province.
The ACE spokesperson confirmed that the summonses had been issued to Imran Khan, Uzma Khan, and Ahad Majeed. This development adds to the growing number of cases against Imran Khan, with the total now exceeding 140.
The case revolves around allegations of fraud in the acquisition of a large tract of land at remarkably low prices. The ACE is investigating the matter and has called upon the individuals involved to provide their statements and cooperate with the ongoing inquiry.
Imran Khan, who previously served as the Prime Minister of Pakistan, now faces legal scrutiny as he is required to appear before the ACE. It is important to note that the summoning of individuals in an investigation does not imply guilt, as the legal process will determine the outcome based on the presented evidence and testimonies.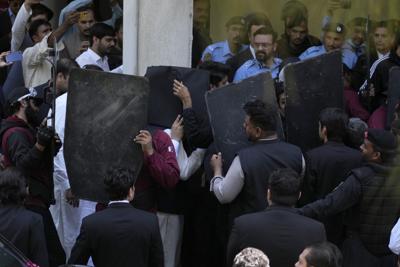 The ACE's efforts to combat corruption and ensure accountability in Punjab are reflected in their pursuit of this case. The investigation aims to uncover any wrongdoing and hold those responsible accountable for their actions.
As the legal proceedings unfold, it remains to be seen how Imran Khan, Uzma Khan, and Ahad Majeed will respond to the summonses and participate in the investigation. The ACE will continue to carry out its duties to maintain transparency and address corruption allegations, ultimately working towards a more accountable and just society in Punjab, Pakistan.