When it comes to timeless quality and craftsmanship, one brand stands out among the rest: R.M. Williams. Founded in 1932 by Reginald Murray Williams, this iconic Australian company has established itself as a leader in producing premium boots, clothing, and accessories that exude elegance, durability, and authenticity.
The Legacy Begins
Reginald Murray Williams, commonly known as R.M. Williams, had a vision to create footwear that could withstand the harsh Australian outback while embodying style and comfort. With his relentless commitment to quality and his deep appreciation for the Australian bush culture, he embarked on a journey that would forever change the landscape of footwear in Australia.
Superior Craftsmanship
One of the key factors that sets R.M. Williams apart is its unwavering dedication to superior craftsmanship. Each product is meticulously crafted by skilled artisans who bring decades of experience and expertise to their work. From the selection of the finest materials to the intricate hand-stitching techniques, every detail is carefully considered to ensure the utmost quality.
The Iconic Boots
The R.M. Williams boots are the epitome of style, comfort, and durability. Handcrafted from a single piece of premium leather, these boots offer unmatched strength and longevity. The signature one-piece design eliminates the need for side seams, providing a sleek and streamlined look while enhancing the boot's durability. The Goodyear welt construction adds an extra layer of resilience, making them suitable for both rugged outdoor adventures and formal occasions.
The Versatile Collections
Beyond their renowned boots, R.M. Williams offers a diverse range of clothing and accessories that complement their footwear and embody the brand's commitment to timeless elegance. From classic jeans crafted with the finest denim to stylish shirts and jackets, each garment is thoughtfully designed to combine functionality with sophistication. R.M. Williams also presents a selection of exquisite accessories, including belts, wallets, and bags, all crafted with the same attention to detail and quality.
The Sustainability Commitment
In today's world, sustainability plays a crucial role in shaping responsible consumer choices. R.M. Williams understands this importance and strives to minimize its environmental impact. The company is dedicated to sourcing eco-friendly materials and implementing sustainable practices throughout its supply chain. By investing in durable products that stand the test of time, customers can actively contribute to reducing waste and supporting a more sustainable future.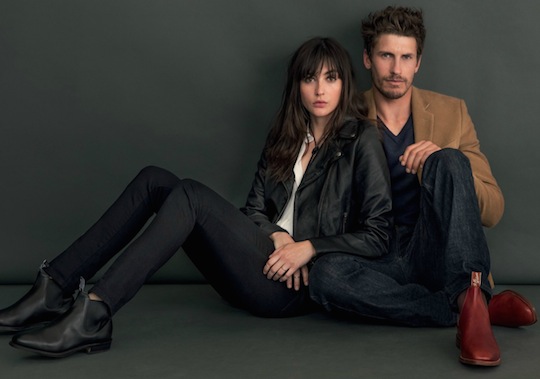 The Timeless Appeal
R.M. Williams has captivated the hearts of Australians and global customers alike with its timeless appeal. Whether you are exploring the vast landscapes of the outback or attending a formal event, R.M. Williams products effortlessly blend functionality, style, and authenticity. The brand's dedication to craftsmanship and attention to detail has earned it a reputation as a symbol of enduring quality and elegance.
R.M. Williams: A Step Above the Rest
In the competitive world of fashion and footwear, R.M. Williams has established itself as a brand that consistently delivers excellence. With its rich heritage, superior craftsmanship, and commitment to sustainability, the company continues to redefine the standards of quality and style. Each R.M. Williams product is a testament to the brand's enduring legacy and serves as a reminder of the beauty that comes from marrying tradition with innovation.