Reports Suggest Russia Engages in Dolphin Training for Security Purposes in Crimea
British military intelligence, in its recent update on the ongoing conflict, has revealed that Russia is seemingly conducting training programs for combat dolphins in the annexed Crimean peninsula, purportedly as a measure to counter Ukrainian forces.
According to UK Defence Intelligence, the Russian Navy has made significant investments in enhancing security measures at the primary base of the Black Sea Fleet in Sevastopol since the previous year.
The reports indicating the involvement of dolphins in military training raise intriguing questions about Russia's approach to bolstering its security apparatus. Dolphins have long been recognized for their remarkable intelligence, adaptability, and ability to navigate aquatic environments. These qualities, when harnessed effectively, can potentially provide advantages in various military operations.
It is important to note that training animals, including dolphins, for military purposes is not unprecedented. Historically, countries have explored the use of animals in specific roles, such as detecting underwater mines, assisting in search and rescue operations, or even acting as sentinels for potential threats in marine environments.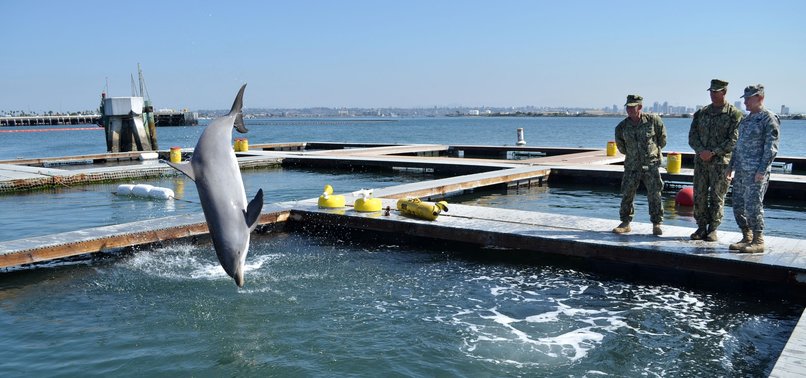 The alleged training of combat dolphins by Russia in Crimea suggests a strategic shift in the region's security dynamics. As the annexation of Crimea by Russia continues to be a contentious issue, the employment of marine mammals in military training adds a new dimension to the already complex situation.
However, it is vital to critically assess the veracity and extent of these reports. As of now, the information provided by UK Defence Intelligence remains speculative and requires further corroboration. The precise nature and scope of Russia's engagement with combat dolphins, including their specific roles and potential deployments, remain uncertain.
Furthermore, it is crucial to consider the ethical implications associated with the use of animals in military activities. Animal rights organizations and activists often express concerns regarding the welfare and well-being of animals involved in such programs.
In conclusion, reports suggesting Russia's training of combat dolphins in Crimea have brought attention to the evolving security landscape in the region. While the utilization of animals for military purposes is not unheard of, the alleged involvement of dolphins in Crimea raises intriguing questions about Russia's approach to bolstering its security capabilities. However, further investigation is required to substantiate these claims and ascertain the true extent and implications of these activities. Additionally, ethical considerations surrounding the use of animals in military operations should also be carefully evaluated.