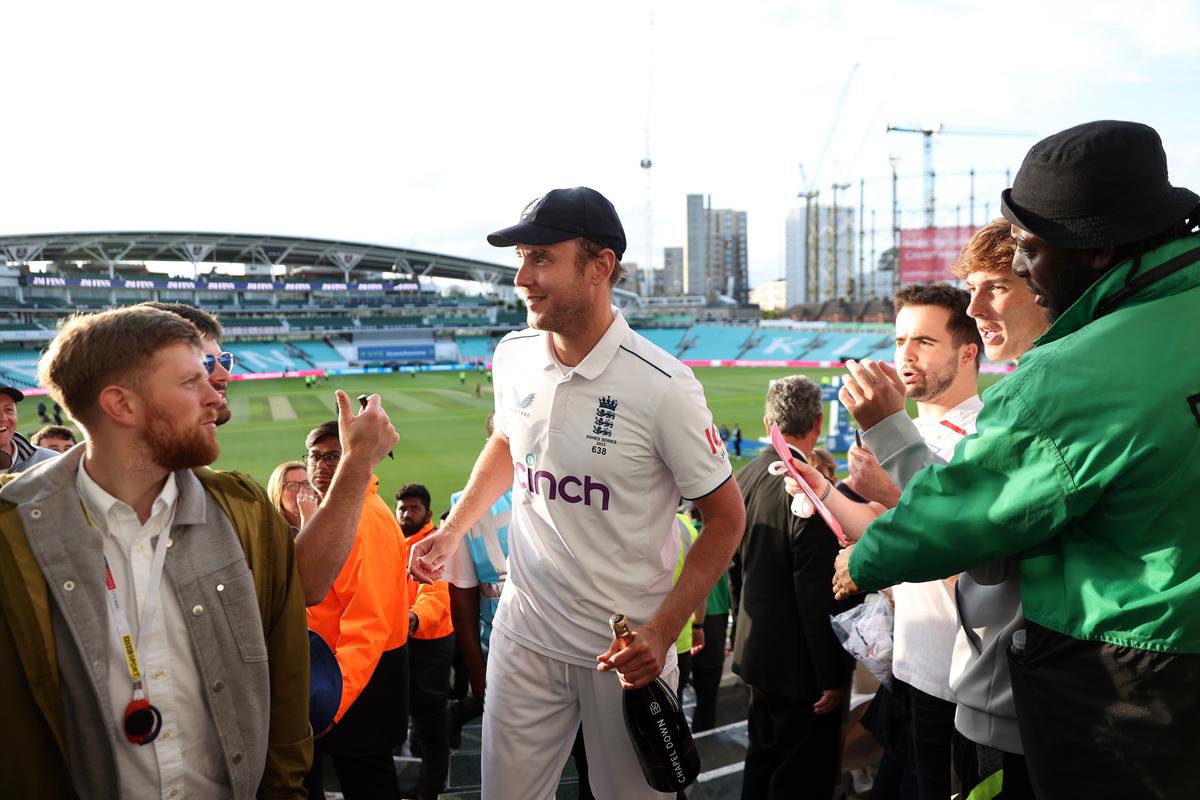 The Ashes 2023: Stuart Broad's Farewell Triumph Leads England to Series-Tying Win
Hey there, cricket fans! If you thought the Ashes couldn't get any more intense, well, think again! The final day of the fifth Ashes test between England and Australia on July 31 was nothing short of a rollercoaster ride, and it had one heck of a grand finale!
Stuart Broad's Heroics Seal the Deal
Picture this: the tension is soaring, the stakes are high, and there's one man standing tall – Stuart Broad! In his farewell match, the legendary bowler proved he still had plenty left in the tank. With nerves of steel, Broad showed his class and experience, taking the last two wickets that sealed England's series-tying victory.
A Fitting Goodbye for a Cricket Legend
As the dust settled at The Oval, cricket fans around the world couldn't help but feel a tinge of emotion. Stuart Broad, a true cricketing icon, bid adieu to the game in the most fitting way possible – leading his team to a thrilling triumph. His career tally of 604 wickets places him fourth on the all-time list, and what a way to sign off!
England's Remarkable Recovery
Let's talk about the match, shall we? The Ashes series had it all – drama, excitement, and breathtaking cricket. In the final test, Australia was chasing a daunting target of 384 to win the series 3-1. But guess what? England had different plans!
In a heart-stopping final session, the English players displayed a never-say-die attitude and made a remarkable recovery. They fought tooth and nail, and when the dust settled, the Australians were all out for 334. The Oval erupted in cheers as England secured a thrilling 49-run victory!
The Ashes: A Tale of Passion and Drama
Ah, the Ashes! It's more than just a cricket series; it's a story of passion and rivalry that spans generations. England and Australia have battled it out for over a century, and every contest adds a new chapter to this epic saga.
The 2023 series was no different. From nail-biting finishes to sensational performances, it had fans on the edge of their seats. And Stuart Broad's farewell heroics added an extra layer of emotion to this gripping tale.
Cricket Unites Us All
You know, cricket has this magical ability to unite people from all walks of life. It doesn't matter where you come from or what you believe in – when you're watching the Ashes, you're part of a global cricketing family.
And as we witnessed Stuart Broad's final masterpiece, that sense of unity and love for the game was stronger than ever. It's moments like these that remind us why we fell in love with cricket in the first place.
Final Thoughts
So, there you have it, cricket enthusiasts! The Ashes 2023 served up a grand finale that will be etched in our hearts forever. Stuart Broad's swansong, England's incredible comeback, and the passion that cricket ignites in us – it's a package that will keep us talking for years to come.
As we bid farewell to this unforgettable series, let's cherish the memories and look forward to more cricketing magic in the future. Until then, keep the cricket fever alive, my friends! See you on the pitch!